Facilities
CLASSROOMS
Our classrooms are specifically designed and furnished for preschool children. Areas for quiet reading, creative arts, block play, circle time, sensory activities, and dramatic play are incorporated into the design of each classroom.
INDOOR GYM
We have a large supervised gym for indoor large motor activities.Climbers, slides, tricycles, scooters, a sensory table and other wonderful equipment are provided. Gym time is part of each day at Nursery School.
PLAYGROUND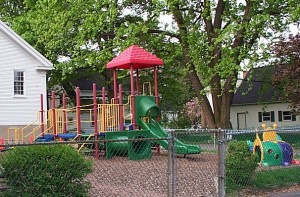 We have a large fenced playground with a sand box, a beautiful climber with slides, tire swings and a variety of other outdoor play equipment.
Children play on the playground each school day, weather permitting.